I found this article on the thisislondon.co.uk website.
Anger over Church advert which puts Jesus' face on beer glass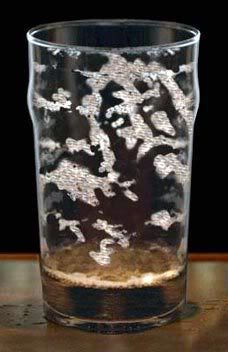 An advertisement featuring the face of Jesus as a 'miraculous' apparition on a beer glass has caused anger among critics who say it undermines anti-binge drinking campaigns.
The image of Jesus in the froth left on the sides of an almost empty pint glass next to the words 'Where will you find him?' will spearhead the Churches' Advertising Network (CAN) festive campaign to encourage church-going this Christmas.
The poster makes reference to the worldwide trend for finding holy images in everyday objects from the face of Jesus in a frying pan, to Christ on a fish finger, the Virgin Mary on a toasted cheese sandwich and even Mother Teresa in a cinnamon bun.
The creators of the new poster said it was aimed at provoking "thought and debate" among young people about where and how people find God. It would be accompanied by a series of radio advertisements in which young people talk about their spiritual beliefs.
But the Rev Tom Allen, a 'mission priest' who works with young people criticised the message the image was giving out: "On the day when a Government commissioned report suggests that rather focus on drugs education, schools and youth work bodies should be educating young people about drink, CAN launch this particularly obtuse poster," he said on his website.
However, CAN chairman Francis Goodwin said he hoped the poster and radio advertisements would spark a debate about God.
The campaign will use the youth forum website myspace.com to encourage discussion. He said: "The message is subtle but simple – where is God in all the boozing at Christmas?
"For many, Christmas is just drinking and partying and God is excluded, yet many young people are interested in finding deeper meaning and exploring faith.
"We hope the link to myspace will offer another venue for them to discuss their feelings and debate the issues."
The image of Jesus on a beer glass is the latest in a series of controversial images created for CAN, a group of Christians of all denominations working in the media and advertising.
Previous campaigns include a poster depicting Jesus as the revolutionary leader Che Guevara and one suggesting Mary was having a "bad hair day" when she discovered she was pregnant.